Submitted by

ali

on Mon, 10/12/2020 - 23:48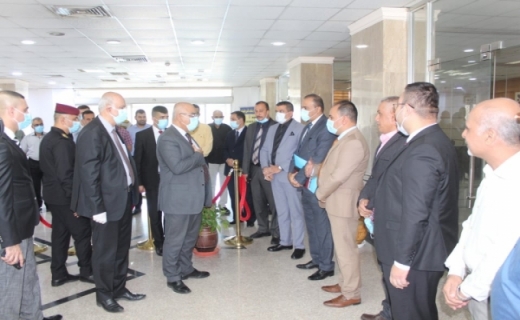 With respect and appreciation, the presidency affiliates at Al-Nahrain University, including faculty staff, heads of departments and employees, welcome the Minister of Higher Education and Scientific Research, Prof. Dr. Nabil Kadhem Abdel-Sahib, after his participation in the University Council.
 The university presidency witnessed a reception filled with warmth, love and unity in which they expressed their sincerity and love for his Excellency. Dr. Nabil Al-Sahib has occupied the position of Al-Nahrain University president for five years which were filled with diligent joint work between them.
During the University Council, the Minister discussed with the President of Al-Nahrain University, Prof. Dr. Ali Abdel Aziz Al Shawi, the assistants and deans, the requirements of the new academic year, and the importance of relying on blended education to achieve the goals of the study plan for the current situation.