Submitted by

ramon

on Sun, 10/27/2019 - 10:02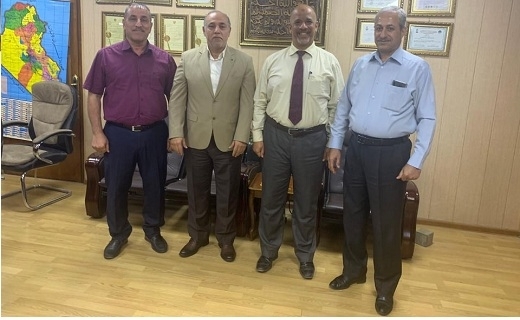 Al-Nahrain Media:Noor Fakher
A director of Al-Nahrain Nanorenewable Energy Research Center (NERC) , Prof.Dr.Kareem Kahalif  Muhammad  holds a meeting with Ministry of Science and Technology  / The Renewable Energies Department by  its director ,Dr.Kamal Hussein Latif along with director of  Agencies Technologies  Centre ,Mr.Ahmed  Khalel  and director of   DNA Forensic for Research and Training in University ,Prof Dr.Dhaaa Shamakh Zagheer.
The meeting aims for a shared scientific cooperation between the two partners and building Solar Power System in Al-Nahrain University  about 100 KW as a first step which could advances    yearly to be a pioneering system in  University and The Renewable Agencies Department / Ministry of Science and Technology  is responsible for  installation and maintenance of it for five years.
Besides, this meeting assures that the preparation of The Renewable Agencies Department of  all the basic demands  of machines and systems to support the researches , studies and cooperation between the two partners in the educational system and training the research and engineering  staff and  their students.
Translated By
Asst.Prof.Aula Abdul Ghaffour Muhammad Salah