Submitted by

ramon

on Thu, 09/19/2019 - 09:12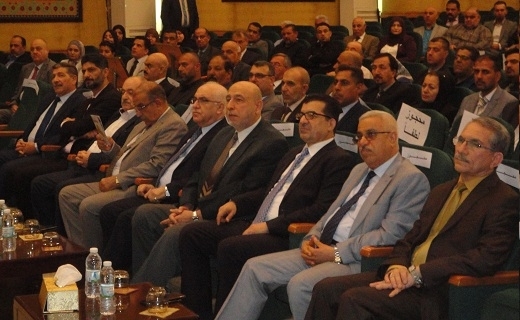 Al-Nahrain Media:Noor Fakher
By the sponsorship of Ministry of Higher Education and Scientific Research ,Prof.Dr.Qusay Al-Suhail, Al-Nahrain University contributes in a workshop about the national project for planting  million trees in   Iraq and this project is done by Ministry of Higher Education and Scientific Research/  Department of Research and Development along with a number of ministries, universities ,service offices and offices of Ministry of Agriculture.   
The representative of Al-Nahrain University is Director of Department of Media and Public Relations in Al-Nahrain University and member of the committee for preparation of the workshop of this project ,Asst.Prof.Dr.Muhammad Akrem Abd Al-Jileel who points out that this project includes four pillars: Firstly ,it explains the importance of afforestation and maintaince  of the clean environment  which resists the climate impacts. Secondly, combating the desertification and using   afforestation by planting  drought-resistant seedlings. Thirdly,  the community education for the agriculture about afforestation projects. Fourthly, developing the mechanism of  programmed irrigation ,counter desertification and rising temperatures.    
Besides, Abd Al-Jileel adds that this project represents as a motive for education for planting trees to limit the impact of the climate changes in Iraq  participating in creation of a healthy environment activating the roles of the scientific department in creation the afforestation education via a scientific base.
IT is mentioned that Al-Nahrain University contribute in the preparation of the  national project for planting million trees  by Asst.Prof.Dr,Muhamad Akrem Abd Al-Jileel / The Director of Department of Media; the  senior engineer ,Zahra Abd Al-Abaas Hamoody  ,the Chief-of-Staff  Department/ Agricultural Branch in University.
Translated By
Asst.Prof.Aula Abdul Ghaffour Muhammad Salah