Submitted by

ramon

on Sun, 08/04/2019 - 09:09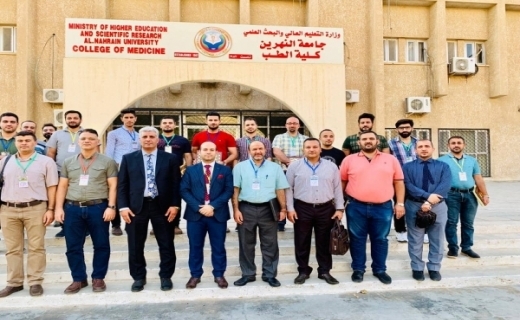 Al-Nahrain Media:Asst.Prof.Dr.Muhammad Akrem
Under the sponsorship  of President of Al-NAhrain University,Prof.Dr.Muhammad Sahab Mahdi Al-Tai and under the sponsorship of the dean of College of Medicine,  Prof.Dr.Anees Khalil, The Work of The Fifth Session  of  ATLAS Medical Surgical Programme  is closed.
The aim of this session is to be aware   ATLAs Surgical Programme for the  First Aids  and the latest developments in this specializations of the international medical science. 
It involves the participation of  a number of doctors of  different governorates Basrah ,Nasiriyah (Thi-Qar) Missan(Al-Amara) to run the academic  and scientific programme under the supervision of eight trainers .It is mentioned that  representative of  Association of Doctors   and the  executive director of Arab Board Programme   attend this session .Besides ,Al-Nahrain University is one of the Iraqi Universities which adopts this programme and its applications.
Translated by
Asst.Prof.Aula  Abdul Ghaffour Muhammad Salah