Submitted by

ramon

on Sun, 07/28/2019 - 09:18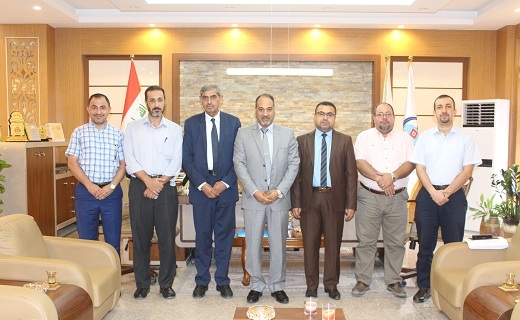 As an attempt  to cooperate with the other universities to develop the  Iraq universities to achieve  an advanced stage among the international universities ,the Committee  of Experts of the different universities involving the Biomedical Engineering ,The Prosthetic and Supporting Parties  Engineering,  Laser Engineering  and the Medical Instruments Engineering  is met .The aim of this meeting  is  the adoption of the teaching curricula for Biomedical Department  in College of  Khawarizmi Engineering in Baghdad University.  
The meeting  is headed by Prof.dr.Muhsin   Jaber  Jweeg ,the Dean of College of The Technical  Engineering  in Al-Farahidi  University  and  the members : Prof.Dr.Jumaa Slaman Chiad,  Assist of the President of Al-Nahrain University  for The Administrative Affairs ,Prof.Dr.kathem Kamel of Al-Mustansiriyah  University ,Asst.Prof.Dr.Aslan Sabah Al-Dean,  the head of Biomedical Department in  Khawarizmi Engineering in Baghdad University  and  Asst.Prof.Dr.Ali  Hussein  Ali and Instr.Taha Yassin Khalif and this meeting is held in Al-Nahrian University. 
The work of this committee is presented  to the president of Al-Nahrain University  and He  appreciated this work which seeks to find a developed  academic scientific environment by cooperation between Al-Nahrain University and other universities .
Translated  By
Asst.Prof.Aula Abdul Ghaffour Muhammad  Salah