Submitted by

ali

on Tue, 10/04/2016 - 11:19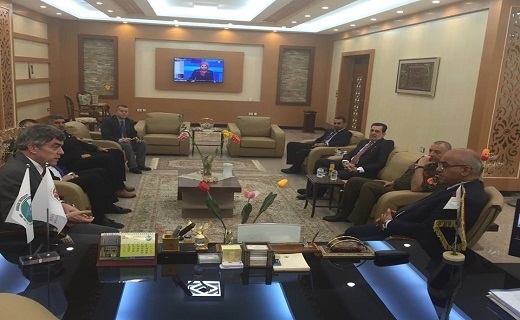 Nahrain Media /Dr.Muhamad  Akram
The President of Al-Nahrain University, Prof.Dr. Nabeel Kadim  Abid Al-Sahib  receives the delegation of  the American University  in Iraq- Sulaymaniyah headed by  the  President of this University by  Prof. Bruce  Walker Ferguson with the attendance of the Director of the Public Relations of University and Protocol  in the Presidency of  the Council of  Ministries, Prof.Taha Husein Al-Hashamy and lecturers of the Kurdish Region of Iraq.
Prof. Bruce Walker Ferguson Praises and likes Al-Nahrain University for its scientific and research achievement and diligence of all the local and international levels; the universit is recognized by its first position of the best recognizable University for its more achievements since 2016 among the Iraqi universities.                                                               
The two partners ( Prof.Dr. Nabeel Kadim  Abid Al-Sahib and Prof. Bruce Walker Ferguson ) have discussed a number of subjects including  activating  the  scientific and research cooperation horizons and the knowledgeable and cultural experts' exchange according to a contract of partnership involving the lecturers ,researchers and students following the training programme between the two Universities depending on the bases of programme that imply the academic foundation the American –Iraqi University.                                                
At the end of meeting, the President of our University receives hospitably the delegation  appreciating  for this visit hoping  achieving such goal.Besides,this American University is established in 2007 in the Kurdish  Region in Iraq  ad it is depended  on English in   all  its teaching curriculums.                                                                                                 
Translated  By
Asst.Prof.Aula Abdul Ghaffour Muhammad