Submitted by

ali

on Tue, 10/04/2016 - 10:12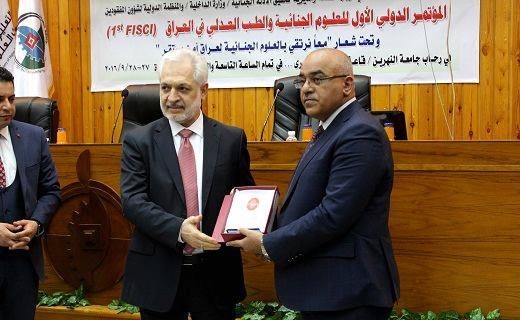 Al-Nahrain Media /Dr.Muhammed  Akrem
Al-Nahrain University /Centre of The  Judicial  Medicine  for The research and Training holds the first International Conference of The Criminal Science and The Judicial Medicine in cooperation with the Directorate of the Criminal Evidences  Investigation  of the Ministry  of Interior,  Directorate of the Judicial Medicine of the Ministry  of Health ,the National Security Authority  and the Intelligence Authority sponsored by the Minster of Higher Education  and  supervised by President of  Al-Nahrain University , Prof.Dr Nabeel Kadim Abid Al-Sahib under the slogan  "Together   We improve  The Criminal Science  for The Safe  and Stable Iraq".The
Conference  comprises a number of subjects  and the scientific and research sessions of the international researchers who are the experts: Angela  Gallop, Creece Creak of United Kingdom(UK) , Ana  Blash of United States of America (USA),James Liolivilleen and the President of the Arab Union of  Legitimate  Doctors in Sudan, Dr.Aqeel Al-Noor Swar Al-Thaab of Egypt ,Dr.Majedy  Abdal-Atheem ,Dr.Ghada Al-Jalad and the researchers and analysts of the same specialization inside and outside of University to know the scientific and technical  developments  in this science , and the participated research papers imply knowing the types of practical  laboratories of the  criminal science and the judicial medicine with reviewing  the practical and scientific samples of the judicial medicine on the local and international levels by recognizing the bodies of martyrs and victims and its assets through the applications of science . The initiative of Al-Nahrain University comes to combine the thoughts via   opening of the University's Institution on the society and the institutions of state.                                                  
A number of the external  sides involving the  International Committee  for  the Lost Persons  , the American Huddersfield University and the Axiom  Company   which is specialized in the Judicial Medicine. The Platform of Conference includes reviewing a number of the documentary   films and the concerned posts of the end institution to achieve the best results to make the development of the criminal science in Iraq in concurrent with these international developments. The qualitative Conference is regarded as the first one of this science and it comes according to a building scientific strategy Al-Nahrain university adopts to achieve the recognition following the general quality principles in all the scientific and research formulations.
At the end of Conference, the appreciative shields and certificates are distributed For the participated researchers by the representative of the President of University, Vice-President for the scientific affairs, Prof.Dr.Abdul Jabar  Neemah Khalifa.
The  Centre of the Judicial Medicine for The Research and Training is established in 2014 which was  a Research Unit  in 2011.This  change(the Research Unit  to The  Centre of the Judicial Medicine for The Research and Training)is happened  for the increased demands for  the Deoxyribonucleic  acid (DNA) to serve  the application of justice human needs to solve the problems through the scientific research and preparing the national   staff   who work in the concerned institutions.
 Translated  By
Asst.Prof.Aula   Abdul  Ghaffour Muhammad